↑139%
conversion rate increase
10x
return on Facebook ad spend
↑445%
increase in total orders
John's Crazy Socks is a family business that John Lee Cronin, a young man with Down syndrome, and a love for colorful & fun socks, co-founded with his father Mark X. Cronin in 2016. John had the idea to start the business with his father after studying retailing and customer service at his local tech high school.

The company's mission is to spread happiness through socks. Each order comes with candy and a thank you note from John. In addition to offering one of the broadest sock selections available – more than 1,900 kinds of socks – the company has a social mission of inspiring others and donating a portion of their earnings to charity.
One of the key challenges John's Crazy Socks faced was finding an effective way to tell their inspiring story to connect with their customers while making it easy to shop for their products.
"We were struggling with that, because if all we did was put socks up, the customer isn't connecting with our social mission. But if we tell you too much about the social mission, then we get in the way of the socks.

I had been listening to Kurt's Unofficial Shopify Podcast, which has been probably the best single source of information and guidance that we've received for building our business. I could tell that Ethercycle would not only have the technical skillset to help us, but also fit with our company's culture. It was clear we had mutual values – treating customers well, focusing on your customers, personalizing things, having a story to tell." MARK X. CRONIN, CO-FOUNDER
The company engaged Ethercycle to upgrade their website design to look more professional, tell their story better, and help people find the right product. Their goal was to improve conversion rate and customer lifetime value.
The Solution: A New Shopify Theme
We installed and configured a Turbo theme by Out of The Sandbox to make the website more inviting and easier for the customer to use. We chose a layout approach that would showcase their large product selection without overwhelming the customer and effectively present their twin social and retail missions.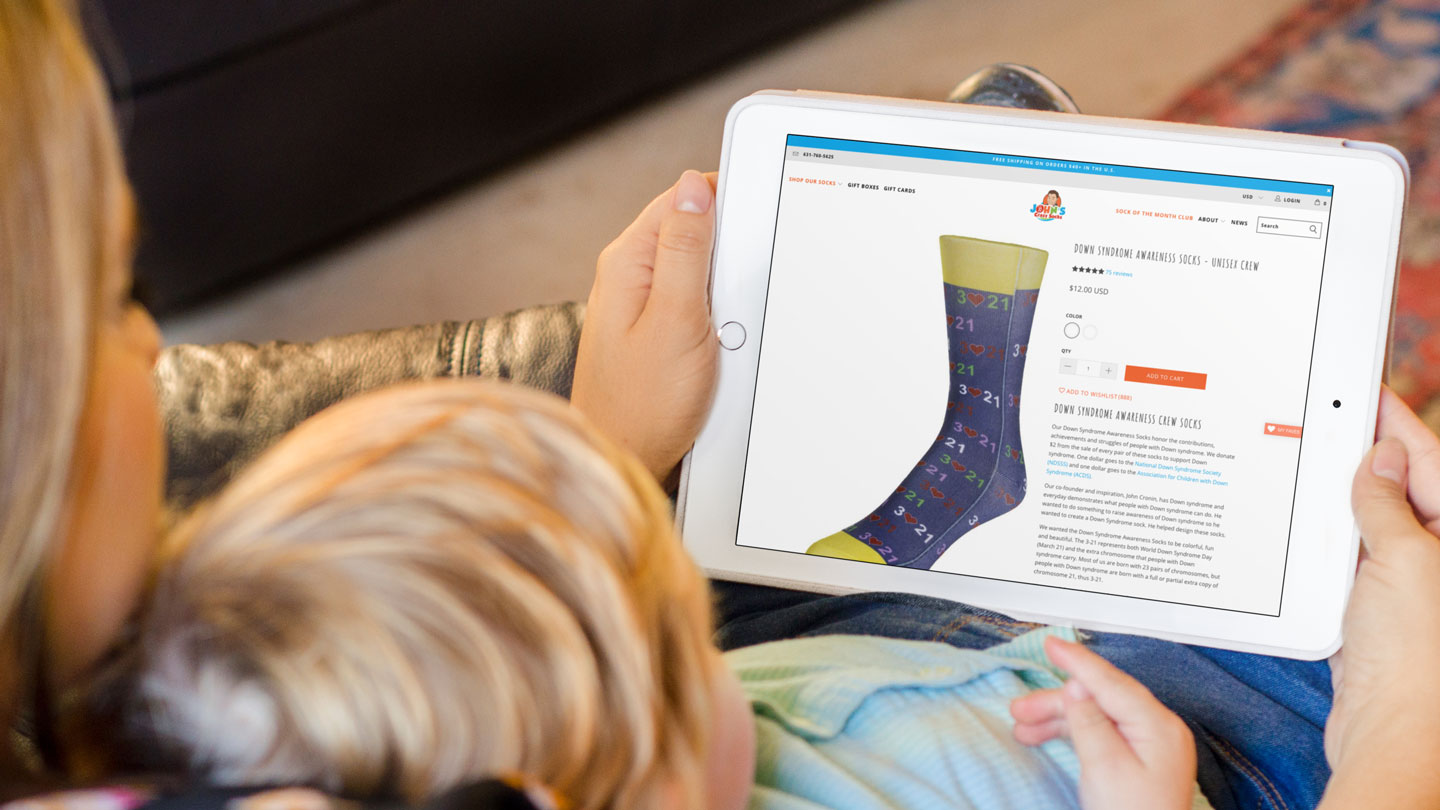 As a result of the project, John's Crazy Socks saw a 139% increased conversion rate and 10% increased average order value. The site was also able to handle a huge bump in traffic and order volume when John and Mark made a couple appearances on national and international TV news programs.
"The work Ethercycle put us on a solid platform for growth that we saw in the last quarter. We were already doing well with our previous site, but this was better. It runs faster, it's easier to navigate, it makes our mission tangible. It conveys more of who we are. It's lead to higher conversion rates.

Getting some high-profile media coverage led to some big spikes in traffic and orders. We had 3,500 orders on one day after we appeared on a national morning news program, way more than the couple hundred a day we were getting at that point. We had our best month ever in January – a traditionally a slow month in retail. We were grateful that Kurt and his team built our website so that it could handle a very high traffic load and help us convert at a good rate." MARK X. CRONIN, CO-FOUNDER
Further increasing sales revenue through Facebook ads and email flow automation
We've continued to work with John's Crazy socks on other projects to increase sales. To retarget visitors after they had left the website, we helped John's Crazy Socks with their Facebook ad setup. The result was an 8-10x rate of return on their Facebook ad buy.
We also helped the company with their email automation, expanding and optimizing their cart reminder email workflows in Klaviyo. The result was an increased rate of purchases from customers that had abandoned cart, as well as improving customer lifetime value.
"I've contracted plenty of web developers, designers, and marketing professionals over the past decade. I've had lots of bad experiences with other people that over-promised and under-delivered, vanished when I needed them, or wound up charging considerably more than the estimates they quoted.

Ethercycle is a company I can rely on. They have so much confidence in what they are doing that they're able to quote fixed project prices and come through with first-class work. They have given me by far the best experience that I've ever had, hands down." MARK X. CRONIN, CO-FOUNDER
Our Work Together
Ethercycle helped John's Crazy Socks:
Make their large product selection easier to navigate for customers
Properly showcase both their retail and social missions on their website
Increase overall conversion rate
Increase average order value
Achieve a 10x return on their Facebook ad buy, with a peak of 18x ROAS
Increase customer lifetime value through email automation
RESERVE YOUR CONSULTATION
Fill out the form below; within 30 seconds, you'll receive an email with instructions to get Started.
"Ethercycle is able to match their technical expertise and ability to execute with an understanding of our culture and mission. They don't simply take their cookie cutter solution and drop it on us. They build specifically for us. They have really helped us grow our business." MARK X. CRONIN, CO-FOUNDER