Helping a successful business feeling limited by BigCommerce modernize and rebuild their ecommerce site by migrating to Shopify Plus.

Kosmo's Q is an independent business born out of a genuine passion for barbecue, buoyed by a fanatical customer base, and driven by a smart team. Their competition-winning BBQ sauces, rubs, injections, and more are now sold to 170,000+ customers around the world.
The company's ecommerce site was built using BigCommerce in 2016. As the business grew, the site became outdated and Kosmo's Q team was feeling held back by the platform.
"We had ideas in marketing and sales that we wanted to do and features we wanted to implement such as after-purchase upsells. We either couldn't figure out how to do them without hiring a developer to do it for us or they just weren't available to us. The main flow of the site and experience also wasn't that great." ED ELLIOTT, DIRECTOR OF MARKETING, KOSMO'S Q
Kosmo's Q was looking for someone with deep expertise to help them rebuild the site and migrate to Shopify. Ed says the main thing they were concerned with was finding a partner rather than an agency.
"An agency does a specific set of work and then they're done. We wanted somebody who could see our vision and partner alongside us through the initial engagement as well as to continue to give us recommendations. We interviewed a bunch of different people and they all felt like agencies and not partners, until we met Kurt and Ethercycle." ED ELLIOTT, DIRECTOR OF MARKETING, KOSMO'S Q
Rebuilding the site with an improved user experience and migrating from BigCommerce to Shopify
We handled the site design and development to modernize the site and improve user experience, working within their brand guidelines and helping to achieve the vision the team had for the new site.
We created a clean and striking design throughout the site to keep the focus on the products and help create a connection with the customer. We designed the menu and each site page to give multiple opportunities for customers to discover products they may want to buy, regardless of where they land on the site.
We designed the product pages so that they included all the information Kosmo's Q wanted to feature without overwhelming the customer, breaking up the information with sections and using accordion menus for additional ingredient and allergen information. Recipes featuring the products are included so the customer can see examples of what they can cook with the product. We integrated apps such as Frequently Bought Together and an image-based reviews app called Links to help drive even more sales.
We took care of migrating all the orders, customers, products, collections from BigCommerce and handled Shopify Plus store setup, helping Kosmo's Q avoid any pitfalls based on our previous experience in BigCommerce to Shopify migrations. We also used the Shopify Plus Wholesale Channel to build a multi-tier wholesale channel, separate from the retail channel.
Ed says he appreciated not only Ethercycle's expertise, but also the experience of working with us, including how responsive we were and how well the process flowed.
"We set the foundation and vision of what we wanted to create and they made it happen. All the things I feel that people fear about agencies and developers — 'Are they going to understand what I want? Are they going to be able to get this done in the time I expect it?' You don't need to worry about those things working with Ethercycle.

They're great people, they know what they're doing. If they say they're doing something, it's getting done. Our meetings were purposeful and on point but we also had fun — that's part of building the relationship too." ED ELLIOTT, DIRECTOR OF MARKETING, KOSMO'S Q
Seamless migration, a new foundation for further growth, and better visibility into sales data
The migration to Shopify was a success, with the new store launching at the end of March 2020. Ed says it was a seamless transition for the Kosmo's Q team.
"Some people on the team said 'I've never seen a project where you change so much, yet it was so smooth.' The fulfillment center, purchasing department, customer support — they didn't really notice. There weren't any big blow ups or shut downs. We turned it on and it did its job. From customers, it's just been praises that they love the new website." ED ELLIOTT, DIRECTOR OF MARKETING, KOSMO'S Q
The migration to Shopify's best-in-class ecommerce platform is unlocking possibilities for the Komo's Q team and giving them a new foundation to help them grow the business.
Customer support is enjoying the increased flexibility to execute order changes and more easily investigate order issues. The marketing team is looking forward to implementing features such as post-purchase upsells and certain subscription deals. With the new build, it's also much easier for the Kosmo's team to change and customize sections as needed.
The migration has also given Kosmo's Q the opportunity to implement a warehouse management system, moving away from using spreadsheets and manual inventory counting. The system has a Shopify integration that makes the whole thing largely plug and play and will make inventory and purchasing easier to track, more accurate, and far less time-consuming than before.
The company also has much better visibility into their sales data. For example, says Ed, they can now see how their SMS campaigns are doing and within the first month of the launch they were able to attribute $6,000 in sales to an image-based review app we helped implement. They're also able to better see what's happening with retail versus wholesale orders.
"We couldn't measure any of those things before. Now we track data in real-time daily to see what's going on, some of it at the store level, not just what we get from our accountants once we see the books later.

We've always wanted to be able to back up what we feel is happening with the data and the facts. The work that Ethercycle did for us has given us the chance to have the facts match up to those feelings. Now we are able to make better decisions." ED ELLIOTT, DIRECTOR OF MARKETING, KOSMO'S Q
We value working with the Kosmo's Q team and are continuing to work with them as they look for new ways to drive sales and optimize the site.
"We're all about finding the best people in the industry to help us along. I'm thankful for the relationship and the partnership that we have going forward with Ethercycle." ED ELLIOTT, DIRECTOR OF MARKETING, KOSMO'S Q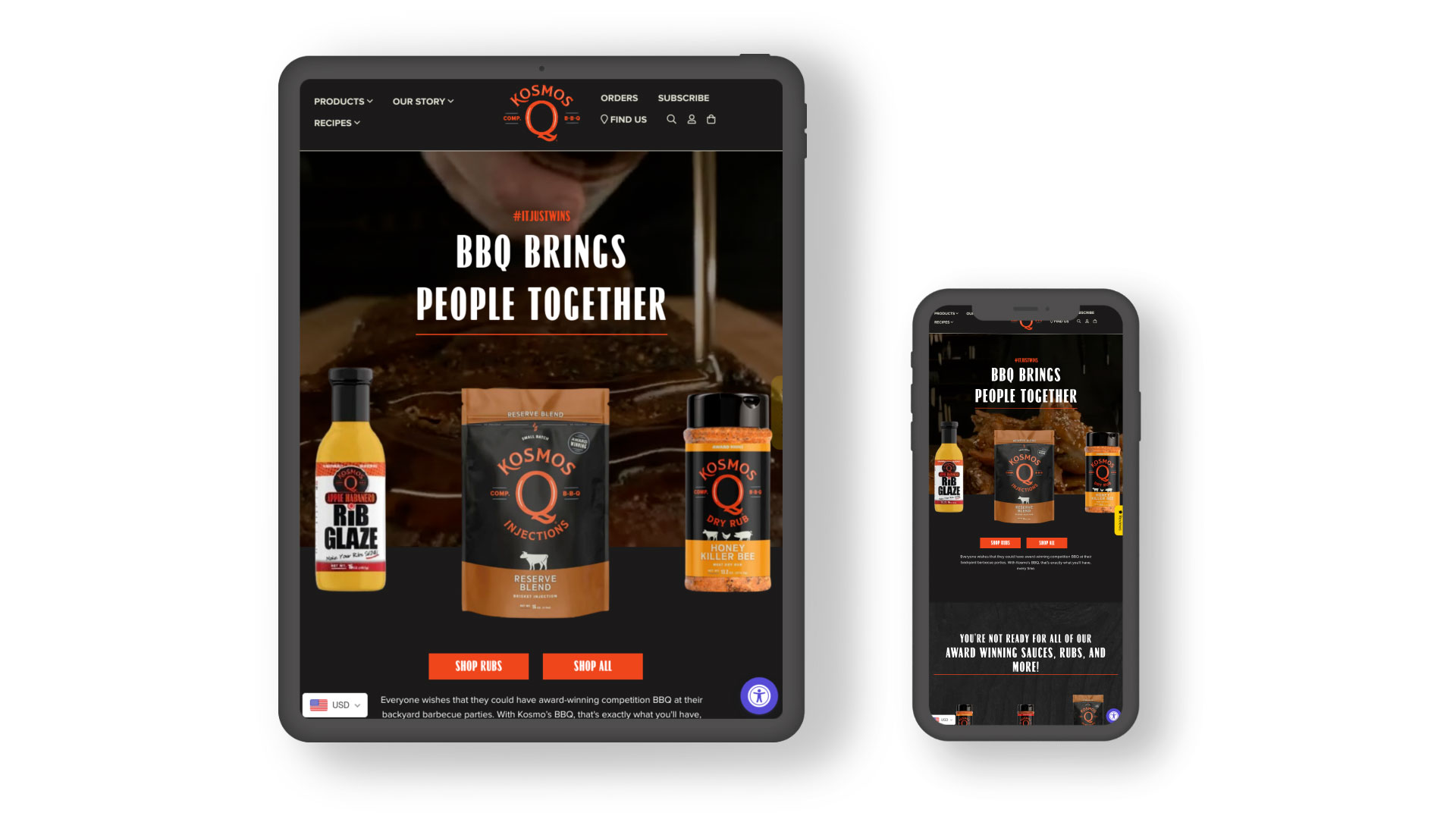 Our Work Together
Ethercycle helped Kosmo' Q:
Redesign and rebuild the site to better showcase their products, deliver a better customer experience and make it easier to find products they'll love
Have a seamless experience with migrating from BigCommerce to Shopify
Unlock the advantages of moving to the best-in-class ecommerce platform to help them keep growing their thriving business, including more app and system integrations, more capabilities for upsells and subscription deals, and more visibility into sales data
RESERVE YOUR CONSULTATION
Fill out the form below; within 30 seconds, you'll receive an email with instructions to get Started.