A large consumer product brand goes direct-to-consumer for the first time with a new online store

Proven Winners Direct supplies superior plants that are easy-to-grow and offer all-season color and bountiful blooms, so that both new and experienced gardeners alike can enjoy beautiful gardens. They offer a very large selection of annuals, perennials and shrubs that are selected from the best in the world and continually outperform other plants.
The company had been dropshipping for a couple big name retailers for years and saw an opportunity to collect additional revenue with better profit margins by creating their own direct-to-consumer website.
Ethercycle seemed to be a great fit to help, says Tim Stolkey, Manager of Ecommerce for Proven Winners Direct. Having seen some of our past work and knowing that we had deep Shopify expertise, he had no hesitations about engaging us for the project. He was a bit uncertain about how we'd be able to tackle the challenge of presenting their large catalog of products.
"We have more than 600 products, so the concern was finding a way to organize and upload all this information and get it in a way that's going to make sense and not be overwhelming to customers." TIM STOLKEY, MANAGER OF ECOMMERCE
Time was of the essence, as the COVID-19 pandemic and the resulting shift in customer shopping habits dialed up motivation and urgency to launch the new site.
"With so many shoppers going online, we knew we had to get something up quickly." TIM STOLKEY, MANAGER OF ECOMMERCE
The Solution: A new, easy-to-navigate and engaging Shopify site
We set to work to get Proven Winners Direct set up with a custom theme on Shopify. We started by providing them clear and detailed steps to gather all the copy, images and product descriptions necessary for their large catalog of projects.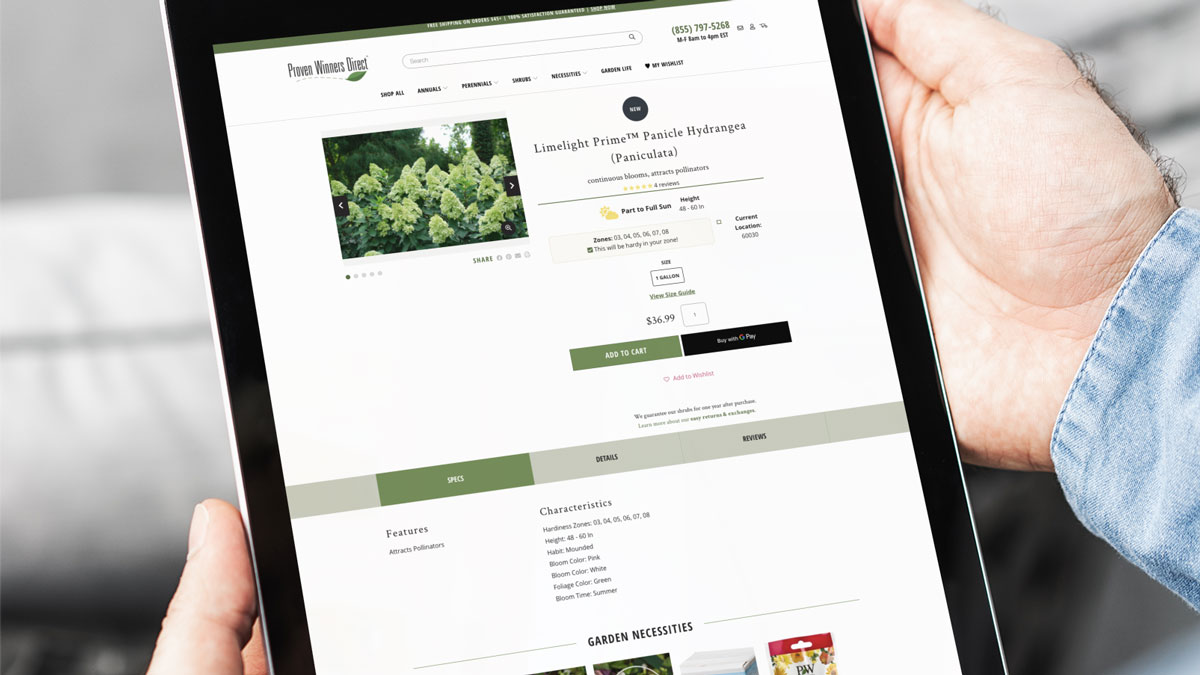 "They had a detailed plan based around what our goals were for the timeline, and they helped us to space it out and break it up into pieces that were manageable for us so that it wasn't overwhelming." TIM STOLKEY, MANAGER OF ECOMMERCE
We worked collaboratively with the Proven Winners Direct team to come up with an elevated design that felt cohesive with their brand — one that is clean and bright with earthy and organic tones and keeps customers of all gardening experience levels engaged.
The product pages are designed so customers can see clearly key characteristics that they're looking for in their plants, such as light level and characteristics such as "continuous blooms", "attracts pollinators", and "resists deer".
To help customers easily navigate the large selection of products, we created multiple ways to browse the site, including the main menu and prominent search bar (which remain visible even as you scroll down the page), a "shop collections" section on the homepage, and a footer menu. We also used a sidebar feature that allows the customer to narrow down the products to those that fit their desired criteria (e.g. plant type, light level, hardiness zone, colors, other key features, price).
We helped make it easy for new customers to connect with the brand and find answers to their questions through strategic placement of contact information, FAQs, testimonials, and trust badges.
We provided guidance on apps to use that would help increase customer engagement and sales — such as a wishlist app that would look almost seamless on the site and our own shipping countdown timer app to help motivate customers to buy.
"They were great at making suggestions for things that we hadn't even thought of, which is what you're looking for when you hire a professional. Their suggestions to keep customers engaged on the website and where to position certain things were impressive. They had data to back it up, and it proved to be true for us as well." TIM STOLKEY, MANAGER OF ECOMMERCE
In addition to the work on the site, we also provided Proven Winners Direct advice on ecommerce strategies they could use to generate additional revenue.
Steady sales increases and more control over the business
As a result of our work together, Proven Winners Direct launched their new direct-to-customer website in May — in time to still take advantage of the spring selling season and respond to the uptick in customer demand for gardening products with so many more people taking up gardening during the pandemic.
With the new site, Proven Winners Direct has seen consistent sales growth on top of their successful dropship business. Within the first eight weeks of the site launch, they experienced steady 15-to-20% increases in sales each week over the week before – which is especially impressive since they launched at nearly the end of their peak selling season. The challenge now is to keep inventory in stock to keep up with demand.
The company now has more freedom than ever before in being able to get their product into the hands of customers, now that they are no longer solely reliant on their dropshipping partners and what product they will or won't accept. They can easily use and change up promotions to help move inventory when it makes the most sense to do so.
"We'll have plants that look great right now and they're not going to look great in two or three weeks unless they get in the ground and are planted. So being able to take control of our business and take control of which direction we're going to have customers go in terms of pushing product, it's liberating for us. We can pivot our promotions quickly, which has resulted in the solid increase in sales week after week." TIM STOLKEY, MANAGER OF ECOMMERCE
Our Work Together
Ethercycle helped Proven Winners Direct:
Rapidly get their entire catalog on Shopify with a custom theme, allowing them to go direct-to-consumer for the first time
Make it easy for customers to navigate their large product selection 
Achieve consistent 15-to-20% increases in week-over-week sales
Take control of selling their product and moving inventory, no longer solely relying on what their dropshipping partners want
RESERVE YOUR CONSULTATION
Fill out the form below; within 30 seconds, you'll receive an email with instructions to get Started.
"The Ethercycle team is easy to work with, they deliver on their promises, and they produce great work. Their creativity and flexibility and patience are what stuck out to me. They were always willing and responsive each time we reached out with changes on our end. They offer a personal touch and I felt like they really cared about our success." TIM STOLKEY, MANAGER OF ECOMMERCE