↑27%
average order value growth
↑84%
conversion rate boost
With diverse clientele including icons such as Lady Gaga, Beyonce, and Katy Perry, Vex creates stunning handcrafted latex clothing and accessories that are sophisticated and sexy. Each piece is designed by owner and brilliant fashion designer Laura Petrielli and is handmade by her and her small team.
While Laura was at first hesitant about the cost of redesigning the site with a custom theme, she felt it was worth investing in creating an elevated shopping experience for her customers that reflected what they were buying.
"I really needed a website that was aligned— something that was highly designed, highly visual, and gave you the feeling that you were shopping for what you were about to purchase. When you walk into a designer store like Louis Vuitton, it's an experience. That's what the website was lacking— the feel that you would get in a high-end merchandise store." LAURA PETRIELLI, CREATIVE DIRECTOR & OWNER, VEX
Creating a customized theme with a sophisticated design
We worked closely with Laura to create an artistic and editorial design for the site that had the look and feel of a fashion magazine.
We revamped the structure and created a streamlined layout to make the site easier to navigate and provide a clean, professional, high-end look. We used color combinations that would complement Laura's excellent existing product imagery, while providing enough contrast for them to pop. Adding simple outlines of shapes gives some visual interest and reflects the clean lines of Laura's designs. To give a more unique look and reflect what you would see in a magazine editorial, we broke the traditional grid, with offset text overlapping the images.
The process was a very collaborative one. Laura provided extraordinary content and plenty of feedback. She appreciated how Ethercycle Designer Tom Siodlak worked with her to create a design that aligned with her aesthetic.
"Tom came to me with amazing ideas, and he understood the high fashion feel I want my company to have. He gave me a lot of visuals of the design throughout, which is great for me because I needed to see what he is envisioning to give my feedback." LAURA PETRIELLI, CREATIVE DIRECTOR & OWNER, VEX
Laura was so inspired by the design as it came together and used it to set the tone in revamping Vex's branding to carry through the look and feel of the site (including her logo, packaging and other marketing materials).
We developed the site by fully customizing the Turbo theme by Out of The Sandbox. The custom menu we developed makes it easier to navigate the site, and we included features that show the ship-by date for custom items and amount-to-spend to qualify for free shipping. We added touches of delight for the customer experience, such as fading in the images as you scroll down the page.
Laura says one of the advantages of working with the Ethercycle team was how quickly we were able to solve any issues that came up when it came time to switch from the old site to the new one.
"Whenever some sort of glitch came up with one of the apps, they could handle those things right away because they have relationships with all those people. If something wasn't working, within a day it was taken care of because Kurt sent an email to somebody he knew and got it done." LAURA PETRIELLI, CREATIVE DIRECTOR & OWNER, VEX
An elevated customer experience and increased conversions
With the site design now working in harmony with the stunning merchandise, Laura's customers immediately noted the massively improved experience.
"I've gotten several emails about how beautiful the website looks from customers — 'Oh my gosh, your website is so gorgeous.'" LAURA PETRIELLI, CREATIVE DIRECTOR & OWNER, VEX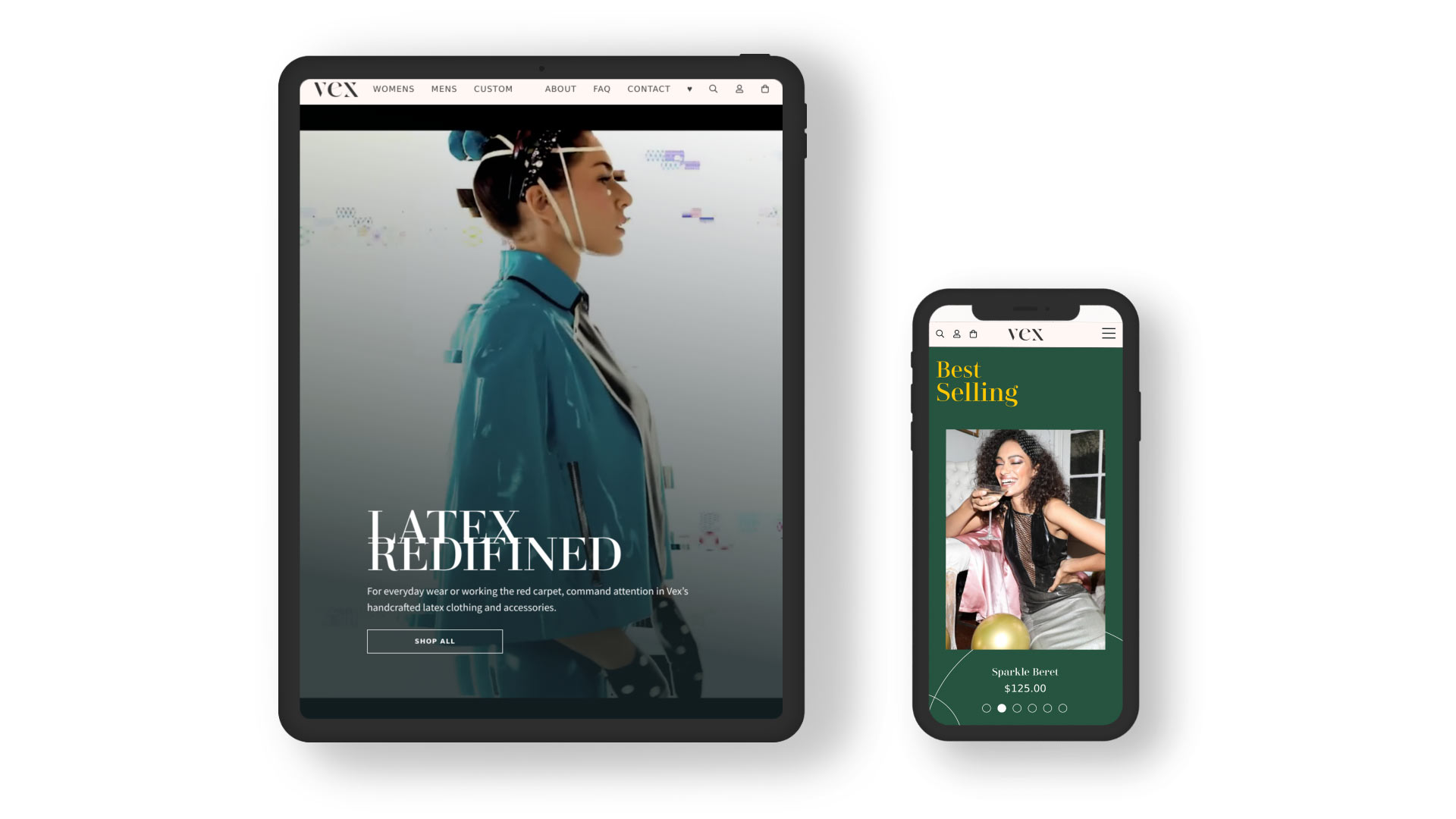 Laura says what she appreciated most about working with Ethercycle was how well we worked together and the level of care and attention to detail we put into doing things right based on our deep Shopify expertise.
"They're so knowledgeable and they care, which is always nice. It's not just 'let's get this done because they hired us to do a job.' They actually want the website to convert well and do well and look great and do what it needs to do." LAURA PETRIELLI, CREATIVE DIRECTOR & OWNER, VEX
Even just a few weeks after launching, the results of Vex's new website design are already apparent — with an 84% increase in conversions and a 27% increase in average order value.
Our Work Together
Ethercycle helped Vex:
Create a sophisticated and beautiful website design to showcase and reflect stunning and high-end merchandise
Set the tone for the rest of the company's branding
Increase conversions by 84% increase average order value by 27% within the first couple weeks of launching
RESERVE YOUR CONSULTATION
Fill out the form below; within 30 seconds, you'll receive an email with instructions to get Started.