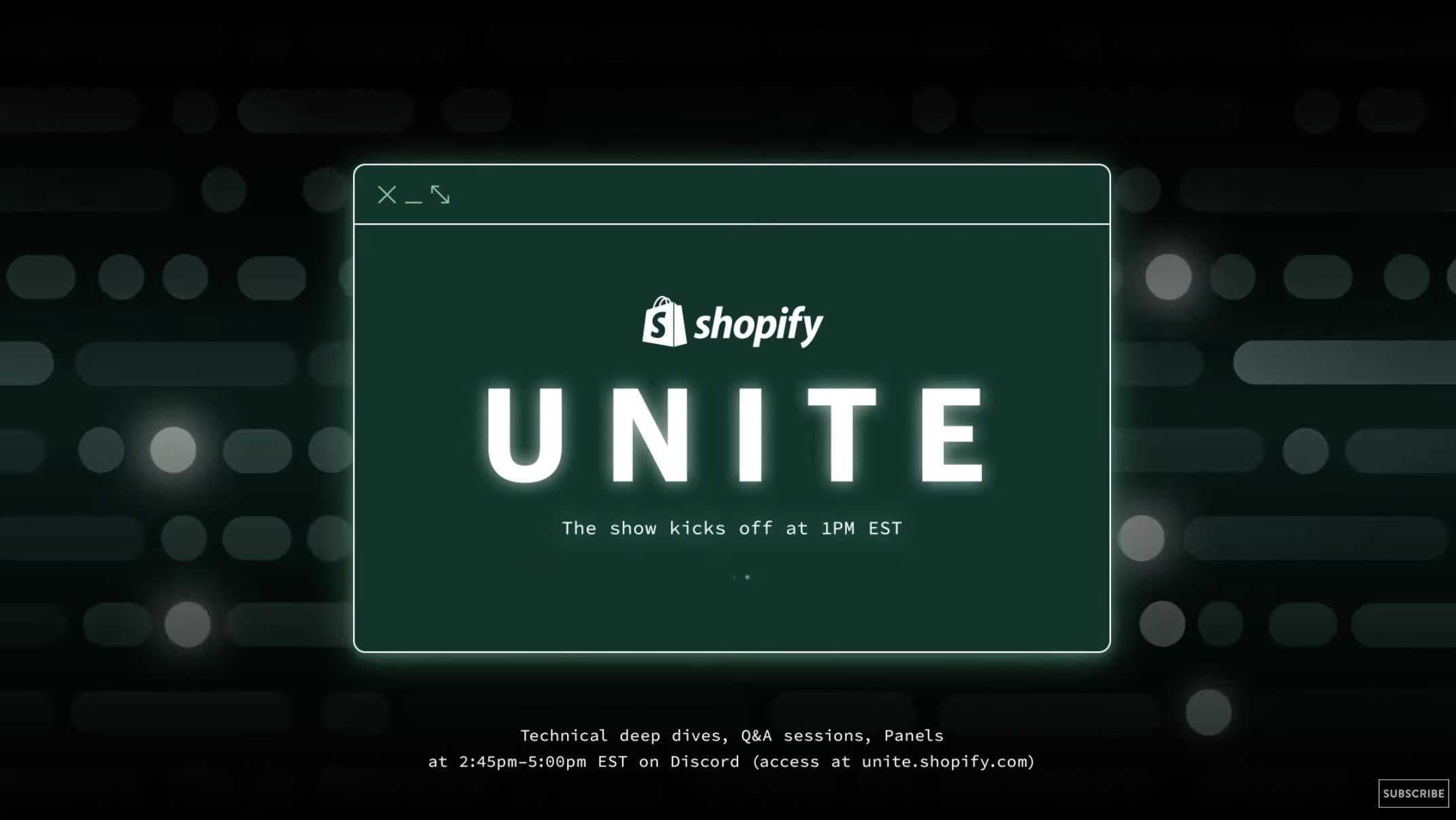 Unite just wrapped up, I wanted to share the highlights with you as soon as I could:
Online Store 2.0
Sections on all pages unlock new opportunities to personalize every aspect of a store
New editor experience makes it more efficient for merchants to build their storefronts
Theme app extensions make it easier to extend and manage apps within themes
New default theme that is faster and more beautiful than ever: Dawn.
Metafields and Custom Content
With support for additional Metafields, merchants can now add their own attributes to models like products and product variants, with support for other models like customers and orders coming later this year.
Custom Content, coming soon, will be built on top of the new Metafields infrastructure and will serve as Shopify's Content Management platform. It will allow merchants to store content of any format within Shopify.
Checkout
Shopify Checkout will be even faster, giving any shop the capacity to handle tens of thousands of purchases per minute. Shopify's goal is for a single merchant to be able to sell 300,000 pairs of sneakers in just over eight minutes, and for each individual shop to have the ability to handle as much sales volume as we served across all of Shopify at the peak of Black Friday Cyber Monday in 2020.
Introducing Checkout Extensions, allowing developers to securely build apps into Shopify Checkout. These checkout customizations will also work in Shop Pay, making the fastest way to pay on the internet another creative brand surface for merchants.
Shopify Scripts are now easier to build and more powerful than ever for developers creating unique checkout experiences for Shopify Plus brands. For example, a merchant could customize the shipping options provided by Shopify and create a script that sorts shipping methods based on carbon emissions, allowing customers to pick the most eco-friendly option. With the new and improved Shopify Scripts, we've made it easier than ever to extend the business logic of Shopify and build unique checkout experiences.
Introducing Payments Platform, a way to integrate third-party payment gateways into Shopify Checkout, unlocking new sales growth opportunities for merchants.
-k.