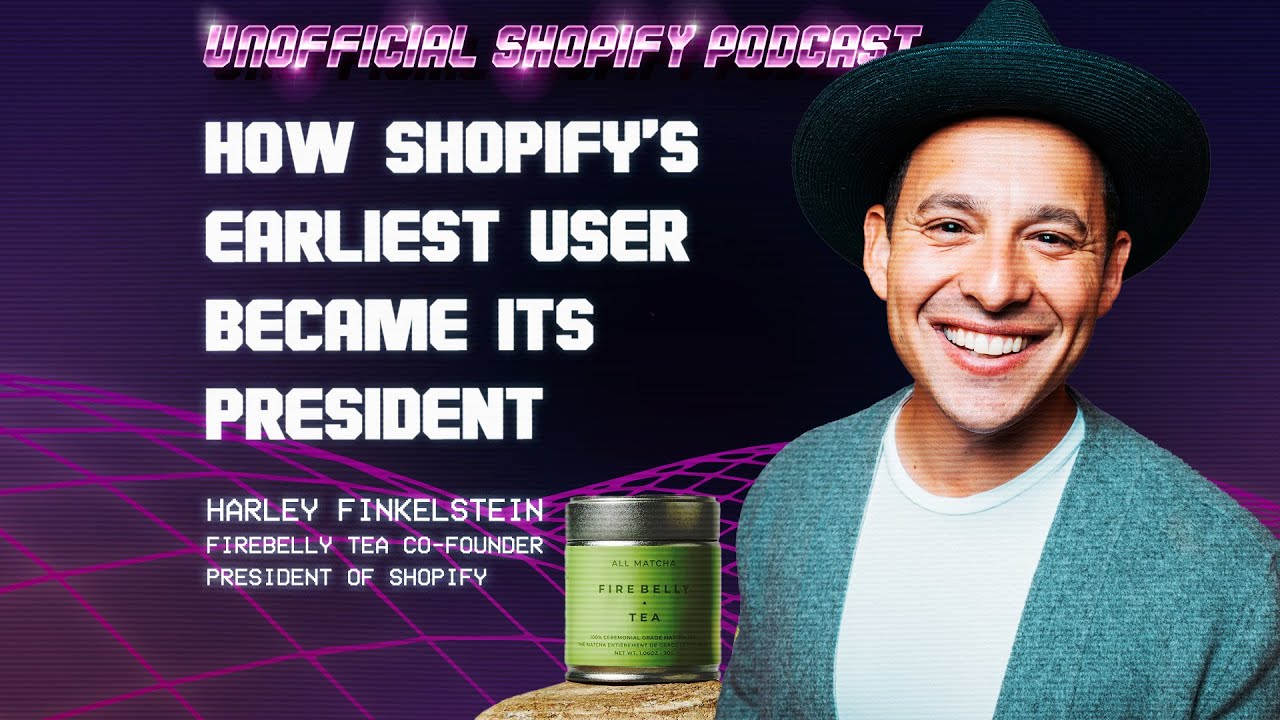 Harley Finkelstein began his entrepreneurial journey DJing and selling t-shirts. Today, he's the President of Shopify.
How did he get from point A to point B? Some may sum it up to a meeting in a coffee shop with Shopify's CEO, but Harley's entrepreneurial work ethic is also a big piece of the puzzle.
He sat with us to share his story, discuss his thoughts on the growth of Shopify and eCommerce, and provide some wisdom for fellow entrepreneurs based on his more than two decades of experience in this space.
The Origin Story
Harley has always been an entrepreneur at heart. When he was 13, he decided to be a DJ, so his dad created business cards for him. He pinpoints these simple business cards, made on a home printer, as a pivotal moment that showed he could make any dream he had a reality by taking the first action step.
In 2001, Harley set his sights on college and attended McGill University in Montreal for undergrad. That same year, his parents fell on hard times financially and could not support him. Forced to figure out how to make money, he gave entrepreneurship a real try at 17 years old. Harley started a small t-shirt business selling fan shirts themed around McGill University. He would sell his t-shirts to the university, and they would turn around and sell them to consumers. He began scaling the business, selling directly to multiple universities. A mentor noticed his small success and let him know that he would soon hit a ceiling. He recommended that Harley go to law school if he really wanted to succeed as an entrepreneur and figure out how to grow a successful business. This advice led him to pursue an MBA and law degree from the University of Ottawa—a decision that changed the entire trajectory of his life.
While attending the University of Ottawa, Harley joined a group of founders and entrepreneurs called the "Young Entrepreneurs Club." One of the few members of this club was a computer programmer, Tobias "Tobi" Lütke. Tobi owned a snowboard company and wrote a piece of software to sell those snowboards online. This software later became known as Shopify. Harley believed in Tobias's work and opened his store as the 136th shop with Shopify.
"This is The Entrepreneurship Company, not because of Shopify, but because of all the people involved with this community. Every one of us has decided that entrepreneurship is the greatest tool to self-actualize, to solve a problem, to find success, and to find ourselves."
From Shopify seller to Shopify President
Harley graduated from law school, passed the bar, and went to work for a law firm (as most people do after law school.) His Shopify shop supplied the magical feeling and sense of community, which he felt was pulling him back when he tried to walk away from entrepreneurship. Less than a year later, he left his job as a lawyer behind, reached out to Tobi, and asked if he could help him build Shopify.
Harley officially joined Shopify in 2010 as Chief Platform Officer, but he was the "jack of all trades," helping with business development, law, finance, marketing, and more. Since then, he has worn the hat of Shopify's COO and now of Shopify's President since September 2020.
Harley has received numerous accolades, including the Canadian Angel Investor of the Year award, Canada's Top 40 Under 40 Award, and Fortune's 40 Under 40. He was on the board of the C100 from 2014-17, was inducted into the order of Ottawa in 2017, and was on the board of directors of the Canadian Broadcasting Corporation from 2017 to 2020.
He equates many of his successes to the fire that the growth of Shopify has lit beneath him. To this day, he works hard to continually qualify for his job through learning, meeting people smarter than him, and gaining knowledge through mentorship and coaching.
"The entrepreneurial way to grow a business is the optimistic way, the way that I've always wanted to live my life, which is 'challenge accepted.' If Shopify is going to grow at this ridiculous pace every year …I need to keep up."
Is Shopify still the go-to platform for eCommerce?
Shopify's growth has been explosive in recent years as eCommerce adoption has grown rapidly, now being the norm rather than the exception. Shopify now accounts for more than 10% of all eCommerce retail sales in the United States, second to only Amazon.
Shopify has become the go-to platform for eCommerce due to its focus on user-friendliness and simplicity paired with advanced features for the modern eCommerce marketer. The recent adoption from major companies such as Glossier, Spanx, and Mattel is proving its evolution in scale and mass adoption.
Shopify's app store is also growing, and the platform's features are constantly being updated. When deciding which to update and focus on, their motto is: "making the important things really really easy." One example of this is their new checkout functionality, which allows merchants to change the overall feel, look, and function of their checkout experience to match their brand—making branding easy.
"There is no company that is more future-proofing eCommerce than Shopify. If you are at your mom's kitchen table and want to start a business, we're making sure it's really easy. At the same time, if you're a publicly traded company, you can use Shopify, too."
Shopify during the pandemic
When the pandemic hit, many entrepreneurs still did not have an online platform and were forced to adapt to the online format overnight.
Shopify was there for them and earned their trust. More merchants are using more of Shopify's products than ever before, and Harley attributes this growth to the trust Shopify earned during the pandemic. These same entrepreneurs are now replacing their in-store POS systems with Shopify's, so their omnichannel experiences are built with Shopify on the back end.
"I'm very proud of how Shopify operated during the pandemic. I think the pandemic was difficult for everybody—even the pandemic winners. But Shopify earned incredible trust with businesses and merchants during the pandemic."
Wisdom for entrepreneurs from Harley's failures and successes
Entrepreneurs know what it means to take risks. This also means they know what it's like to fail and to persevere in the face of failure. Harley shared some advice for entrepreneurs based on his experiences:
Prioritize Hiring: Hiring the best people is important for the growth and expertise of your company. In the early days of Shopify, Harley says he could have done better at really focusing on hiring, and it has taken him many years to realize just how important those decisions are.
Delegate: You may be great at doing every part of your business, but you don't get to scale when you try to do everything yourself.
Find an easy way to explain your offerings: The more your customers know about your offerings, the more they can purchase and benefit from your company. One improvement Harley thinks Shopify needs to work on is explaining what service they offer merchants.
Be transparent and admit when you're wrong: Whether you make a mistake internally or publicly, admit your wrongdoings and try to make sure it doesn't happen again. Learn from your mistakes. In the summer of 2022, Shopify had to lay off 10% of the team due to predicting eCommerce growth wrong, based on COVID-19 pandemic predictions, and overhiring. Tobi, Harley, and other leaders of Shopify have been very vocal about this mistake and what went wrong in press releases and interviews.
Finally, and most importantly, Harley wants people to know that entrepreneurship is for anyone. The idea that entrepreneurship is only for people with experience and money is old-school thinking. Yes, it is difficult to stand out amongst competitors, but that doesn't mean it's impossible.
"This is the greatest time ever, in the history of the world, to build a brand new business."
Next Steps for Harley
Harley's success with Shopify has not stopped him from nurturing his entrepreneurial spirit. He recently started his own business, Firebelly Tea. Harley's own anxiety being amplified by coffee during the pandemic inspired Firebelly. A friend introduced him to green tea, and he thought, "Why don't I make a small business from this?"
For Harley, the highlight of his return as an operator is the joy of the day-to-day work of owning a business. He feels that although everyone's measurement of success is different, being an entrepreneur gives you the control to do work you love.
"That's where you get into this concept of life's work, and we are so frickin' lucky we can do our life's work. Most people only end up doing their life's work after their life is over and after their career is done. Doing your life's work during your life is incredibly wonderful."