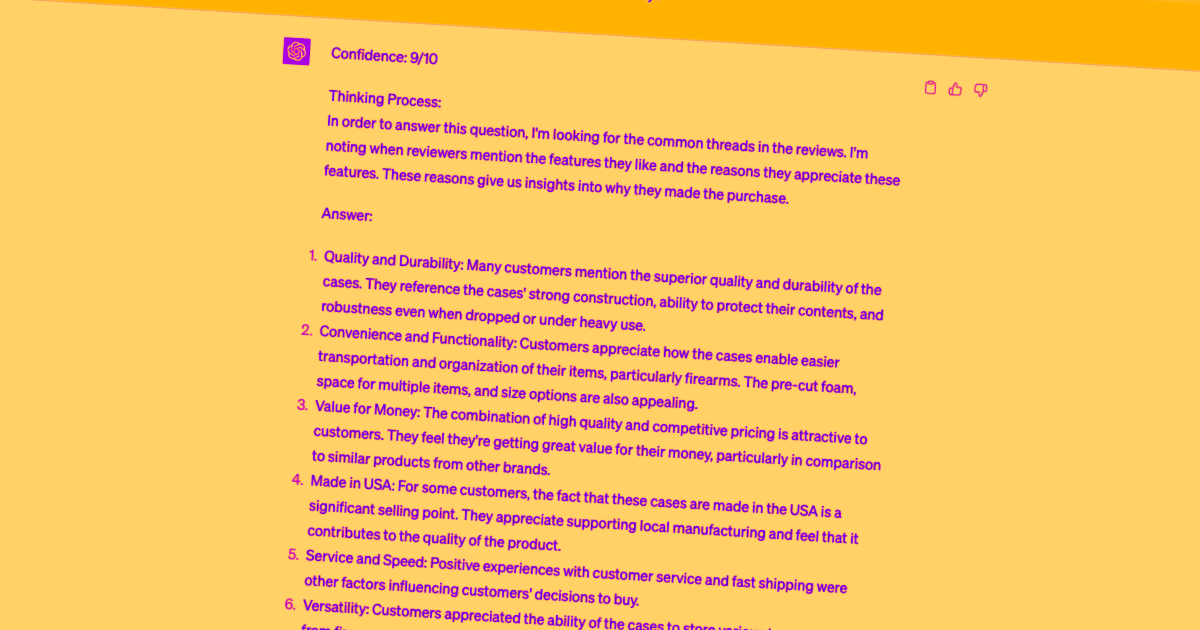 Unveiling the Magic of ChatGPT for Unparalleled Market Research
Friends, marketers, entrepreneurs, lend me your ears. Let's take a radical ride through a new way of conducting market research using the marvel that is ChatGPT.
Step 1: Gather Your Reviews
Start by exporting your Shopify product reviews in a CSV file. You're basically amassing a wealth of customer insights, ready to be unraveled.
If you need to extract reviews from Amazon, a browser extension is a great tool for the job.
Step 2: Prepare Your Initial Prompt
Craft your initial prompt for ChatGPT like this: "You're a marketer working for [COMPANY]. I will give you their top 100 customer reviews then ask you questions about the given reviews." It's like giving your AI a job description, setting the expectations right from the get-go.
Step 3: Address Lengthy Reviews
If the content turns out to be too big for a single paste, then try the ChatGPT PROMPTs Splitter. This open-source tool handles up to 15,000 characters per request, ensuring nothing gets lost in translation.
Step 4: Employ Follow-up Prompts
These prompts serve as your roadmap for deeper insights:
"Can you provide a condensed version of the reviews provided?"
"Pinpoint the repeated themes appearing in these customer reviews."
"Spotlight the main product features as mentioned by reviewers."
"Assess the overall emotional tone of the compiled reviews."
"What motivations for purchase can be inferred from the reviews provided?"
"Highlight standout quotations from the supplied reviews."
"Select the most compelling and pertinent review quotes for social media sharing."
"Craft a detailed customer profile using the insights from these reviews."
"Construct an FAQ section derived from issues raised in the reviews."
"Create attention-grabbing headlines for Facebook ads using these reviews."
"Propose enhancements to the product based on the feedback in the reviews."
"Sort the reviews into different categories according to their main subject of focus."
Afterward, I paste the best answers into a Google Doc, format it, and share that with the client.
By following this SOP, you're effectively enlisting ChatGPT as your dedicated market research assistant, ready to analyze, summarize, and extract wisdom from your reviews. With this workflow, you're setting the stage for a more efficient and insightful market research process. Enjoy your journey to customer understanding.